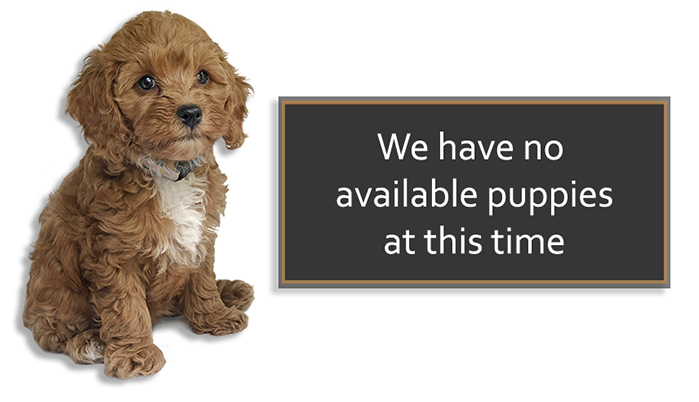 Visit our Planned Litters Page to Learn About Future Litters!
How You Pick A Puppy
When a litter is born our Waitlist families will pick in the order of deposits received. When the puppies are 6 weeks old families can either come pick their puppy in person or they can choose from pictures and videos. Puppies are ready to go home at 8 weeks old.
**Waitlist is Full, Please Check Back This Fall**
Our Waitlist is posted on the bottom of the "Planned Litters" page. When our waitlist is open you can get on the list for a future litter by filling out a Puppy Application. Once I receive it I will reply and send you a link to place a $100 Non-refundable Deposit using Paypal to hold your place on the waitlist. Please allow up to a week for a reply. Puppies are $2000 for males and black or chocolate females, and $2400 for red/apricot/cream females. Families that are already on the waitlist before July still pay $1800. On average we've had a
6-8 Month wait
unless multiple large litters are born.Sometimes we can have more puppies then we have families, or families pass on a puppy when they're looking for a specific color and gender. In those cases a puppy can become available and we'll post them on the Available Puppies page.
What We Do: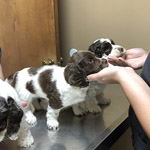 Checkups & Vaccinations
Puppies visit our vet for their first puppy vaccines and a complete checkup.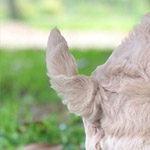 Natural Tails
We don't dock our puppy's tails so they'll come to you as little tail waggers!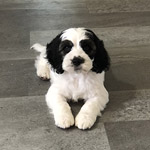 Beginning of House Training
Your puppy will already know how to use a doggie door and go potty on grass.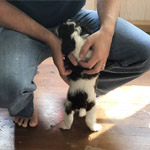 Puppy Visits
You can come pick your puppy out in person-it's worth the roadtrip.