Dams
Meet our beautiful mothers here at Sugarbear. All of these girls are wonderful, affectionate pets. They love spending time on the couch with us and getting cuddles. Our girls have around 4 litters here with us before they are retired from breeding. Visit our
Video Page
to see Videos of all our girls!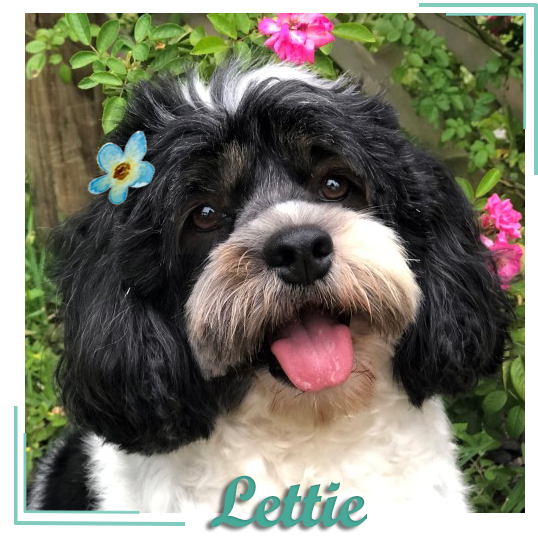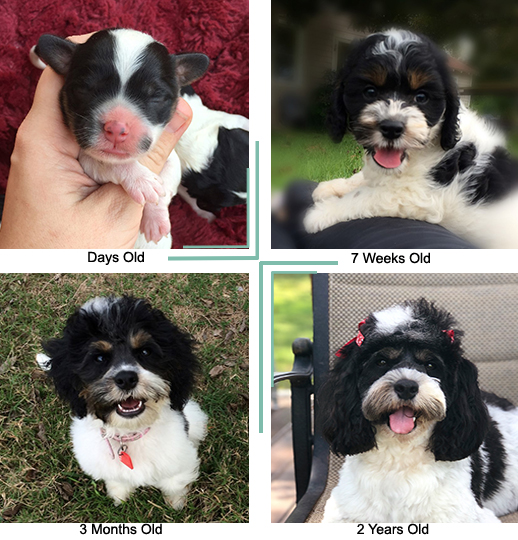 This is Lettie, our F1 Black & Tan Parti cockapoo girl with an outgoing, bubbly personality. Lettie is PRA-prcd DNA clear. She loves to go places and meet new people, but her absolute favorite thing is fetch. She will carry her toy with us on our walks just in case she can get us to throw it, and can even find baseballs that got hit underneath bushes. She have very soft, plush fur and is wonderful for grooming. In 2016 we brought home Lettie as an 8 week old puppy and now she's a 18 lb grown up. Lettie and Kip have F2 puppies, she's had beautiful puppies in chocolate parti and black parti.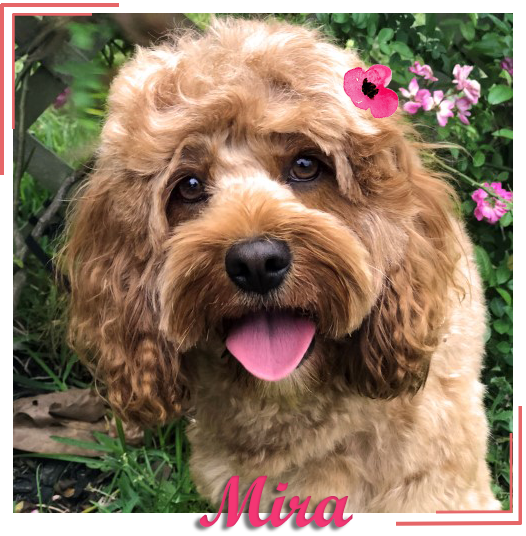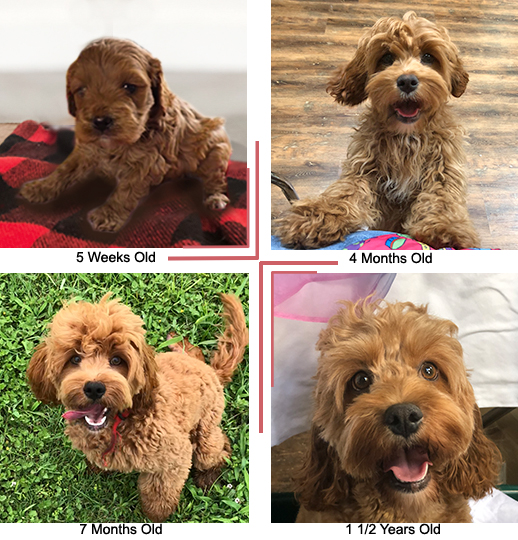 Mira is a beautiful girl we're happy to add to our pack! She has a wonderful merry personality and a dark red color that's hard to find. She has a plush wavy coat that looks its best when its long and flowing. Never more at home then when you're giving her cuddles, she's sure to win hearts everywhere she goes. Mira has F1B litters when bred back to a toy poodle stud. She had a gorgeous litter of 7 puppies with Dooley Summer 2019.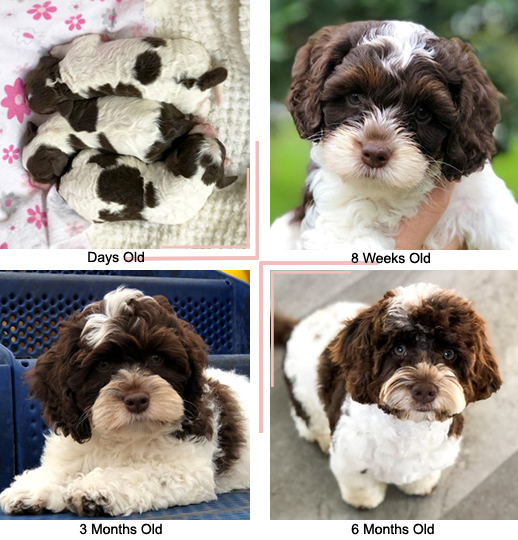 Diana was born here at Sugarbear and it seems like just yesterday she was a tiny newborn puppy. I've loved watching her grow up into a playful adult who can't get enough of cuddles and showing you her newest toy. Diana is the daughter of Lettie and Kip, so she is an F2 Cockapoo. She has a Wavy coat that is nice nad soft.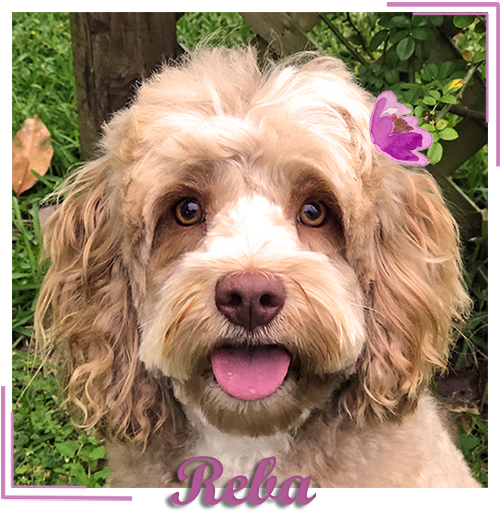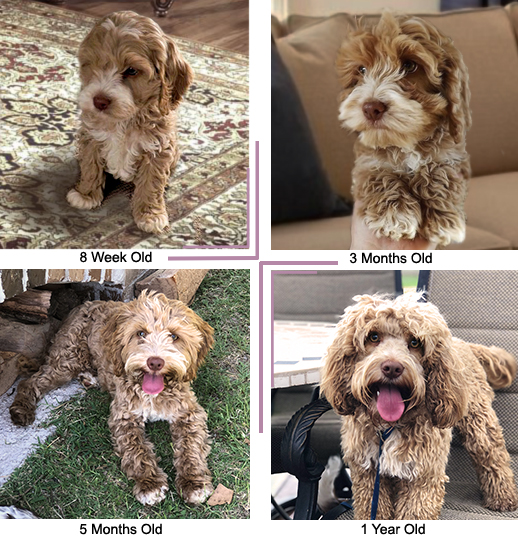 Reba is a lovely apricot who is a sister of Mira. She carries for the chocolate colors we so love to see. She has bright amber eyes that just sparkle when she looks at you. She has a great personality too and enjoys it anytime we have visitors she can love on. Reba had a lovely litter of 8 (can you believe it?!) puppies with Dooley in Summer 2019.

Lettie, Mira, Diana, and Reba all live with us here at Sugarbear.
The three females below, Journey, Sundae, and Josie are pets of my sister
Valerie, who raises their litters.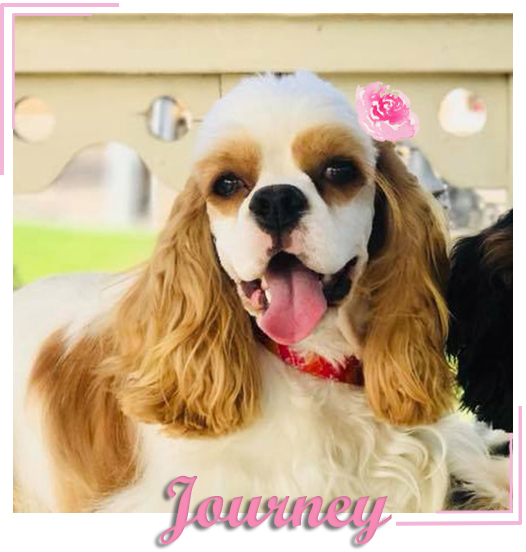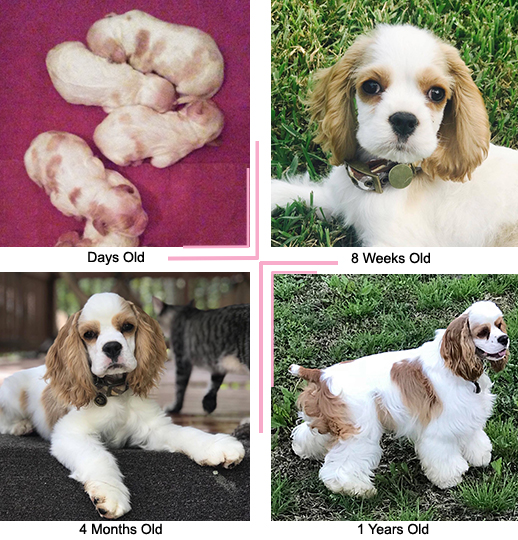 Journey is a gorgeous Red & White AKC cocker spaniel. She comes from show lines and her beauty makes it obvious. She is very affectionate and loves spending time on the couch with you. Journey is owned by my sister Valerie, who also bred my girls Jojo and Lettie. She had a litter with Dooley in the Summer of 2019, they had a single beautiful apricot puppy. We look forward to her next litter, and hope for many more.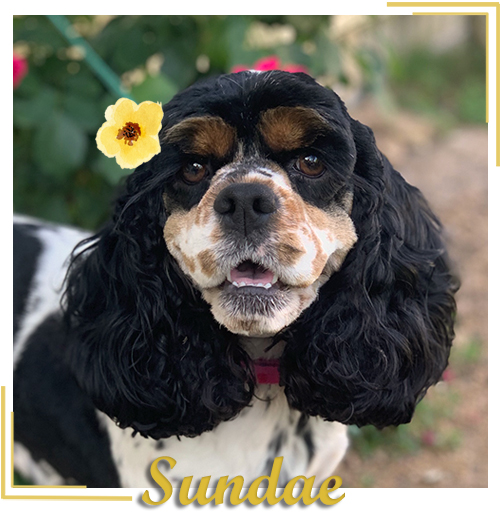 Sundae is an AKC Black & Tan Parti Cocker Spaniel who is a half sister to Journey. Sundae gets along with everyone, and is very good natured. My sister Valerie is the owner of Sundae. Spring 2019 Sundae and Cajun had 3 beautiful puppies, the perfect instagram models. Her thick wavy hair and happy personality comes through in her puppies.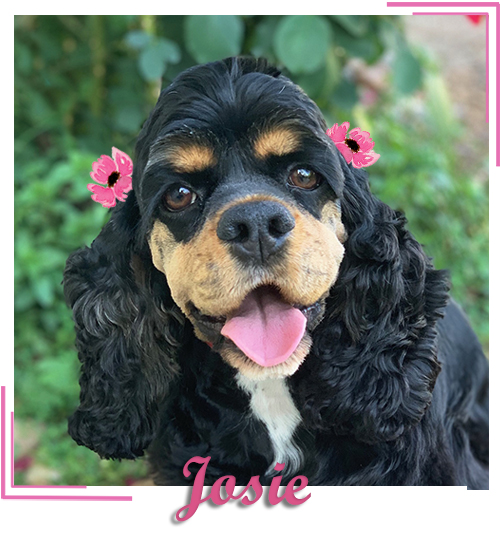 Josie is a Black and Tan Cocker Spaniel. She's very sweet to her owner and is a loyal, protective dog. She loves car rides, playing with her toys, and lounging on the couch with you. With her shiny black coat and confident personality she's beautiful as she prances across the yard. We're looking forward to seeing her puppies.

Retired Moms
Jojo
Jojo is an awesome F1 Black & Tan Parti cockapoo girl that's just a half sister to Lettie, but she looks like her twin! Jojo is PRA-prcd DNA clear. Jojo is a sweetheart, with a great love for belly rubs. She's very friendly and would like nothing better than to be your couch buddy... after a long walk of course! Her fur is very similar to Letties, they both have plush soft fur. She weighs 17 lbs at 1 1/2 years old. Jojo has gorgeous puppies, she has had black parti and chocolate parti. Jojo has been retired and is living with a wonderful family that just love to spoil her with all the pets she could want! Jojo had 4 Litters total.
© 2019 Sugarbear Cockapoos. All rights reserved | Design by W3layouts.